I suppose that there are no more than 5 flashlights powered by 23650 battery. At least, in last 3 years of my review experience, i`ve seen only one of them. So, I was really curious about this thing. Let`s check it, if Fitorch P25 worth buying or not.
LED: 4 - CREE XPG3
Light Output: Max 3,000 lumen
Reflector: 10 Degree Optical Lens
Body Finish: Premium Black Type-III Hard-Anodized Anti-Abrasive Finish
Powered By: 1x - 26350 Li-ion (Included)
Physical Specifications:
Width: Head: 33.8 mm \ Housing: 31.8 mm \ Length: 85.5 mm
Package and appearance.
The same Fitorch package, the same so popular yellow-black color scheme. Nevertheless, design is good. So you can definitely buy P25 for a gift, package doesn't look cheap in each detail.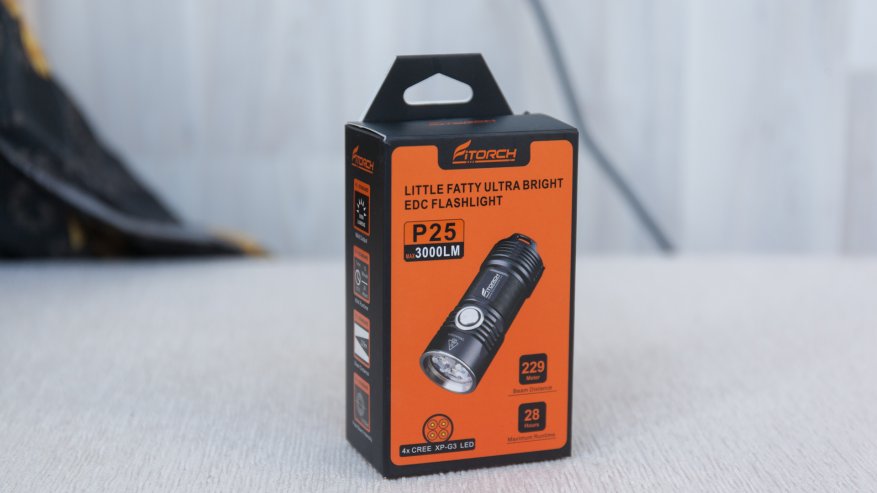 Inside, in plastic blister, lays the same set: P25 itself, 26350 battery, holster, lanyard, micro-usb cable, manual.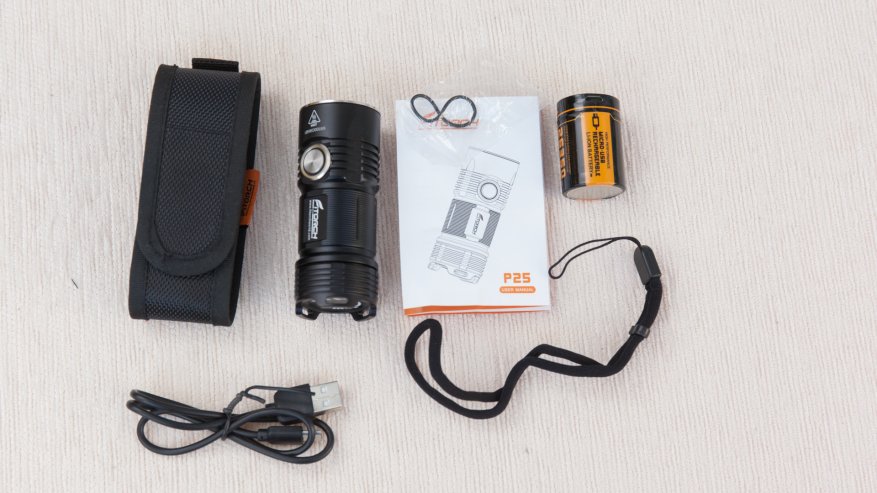 Flaslight is not kinda high-design thing, no. It`s quite simple in design. P25 has other reason to surprise – it`s size. Flashlight is little bit larger than chicken egg (not small, one, I mean chicken from farm).
So, knurling is simple, concentrical. As P25 is short and you can almost hide it in palm of you hand, grippy knurling is not a serious need – it is really, really firm as is.
The rest is usual, a pair of "cheecks" with model and brand names engraved.
And, well, I don't care is EDC should work at 1st, and looks good at 2nd.
And, what about size, there are some other things to compare with.
Of course, being this short, P25 provides a decent grip

As P25 is short, you can use it like a camping light, because center of masses is low, just put diffusor on.
Small hint about physical lockout with tailcap for those who don't know -)

Double spring at tail is thick, good. And there is a contact plate at head side.

Button has a smooth move, there is a red-green indication around it.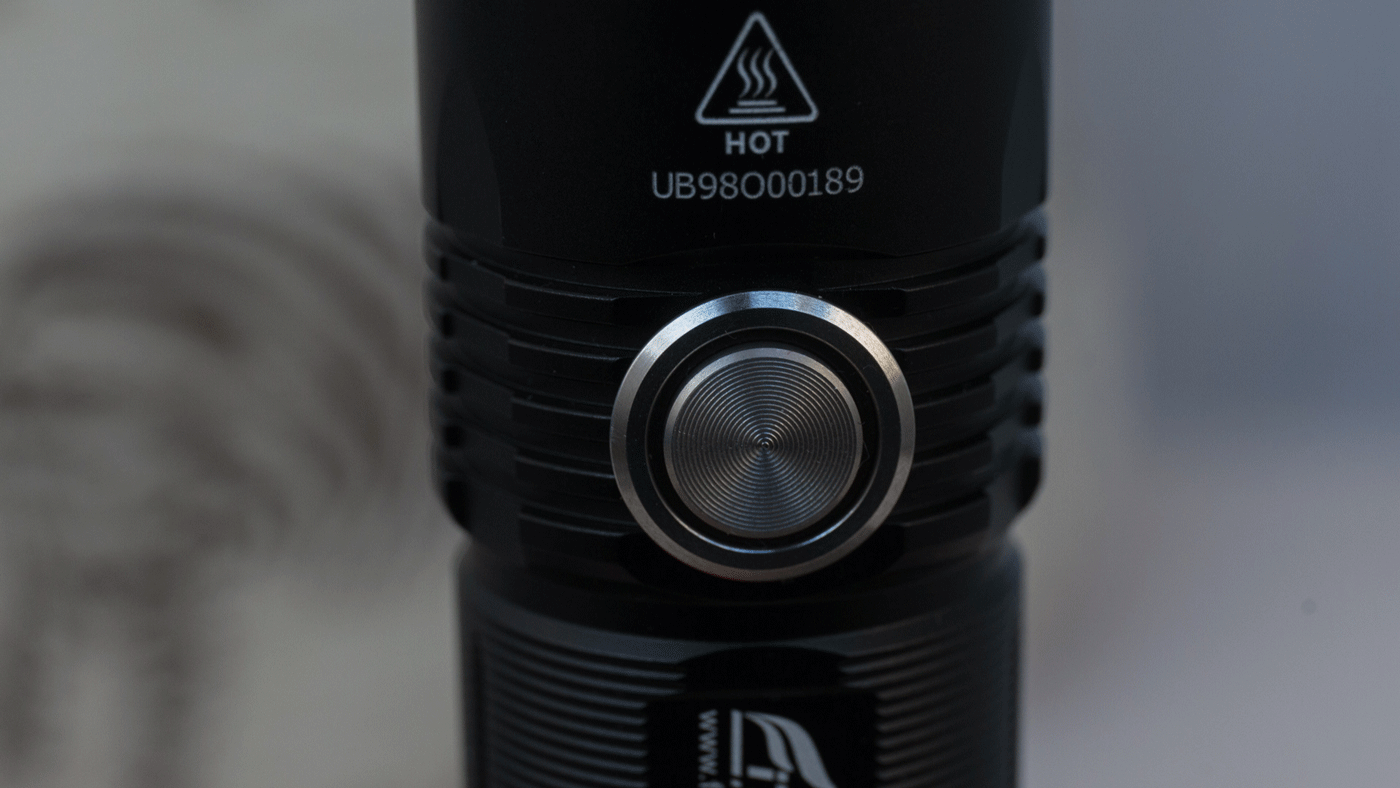 Cooling ribs are not deep, but what can you expect from flashlight that size? Regarding to it – cooling ribs are proportional.

4 x XP-G3 LEDs + TIR Lenses are responsible for light. And, of course, installing TIR-optic here let Fitorch minimize flashlight length.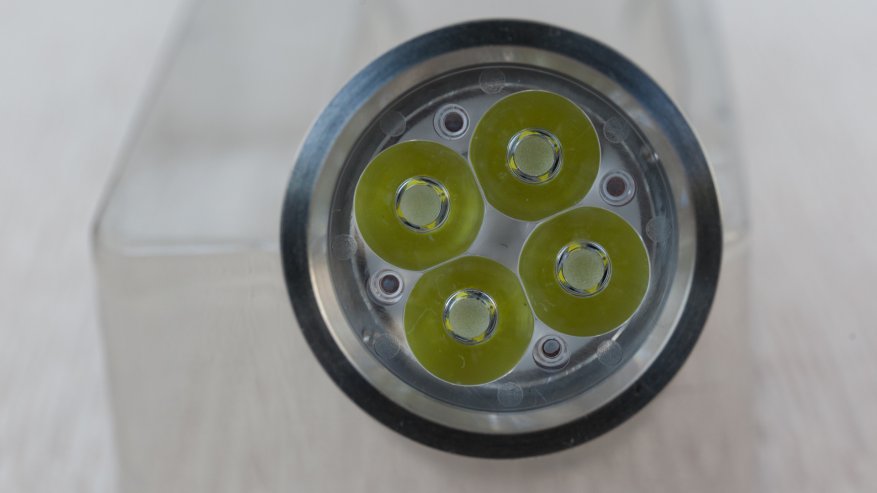 UI
1sts Fitorch model illustrated attempts to find their own vision of UI, and I feel that they did it, as UI is almost the same in recent models.
It has it`s own, well, taste, with PROs and CONs. I cannot label in uncomfortable, you just have to get used to it.
There is a minor mistake, Manual and Specs have other names for modes, like low-mid-high-turbo \ ultralow-low-mid-high.
I like Lockout and ascending-descending mode order, but would like to get instant turbo. You have direct access to lowest mode from lockout.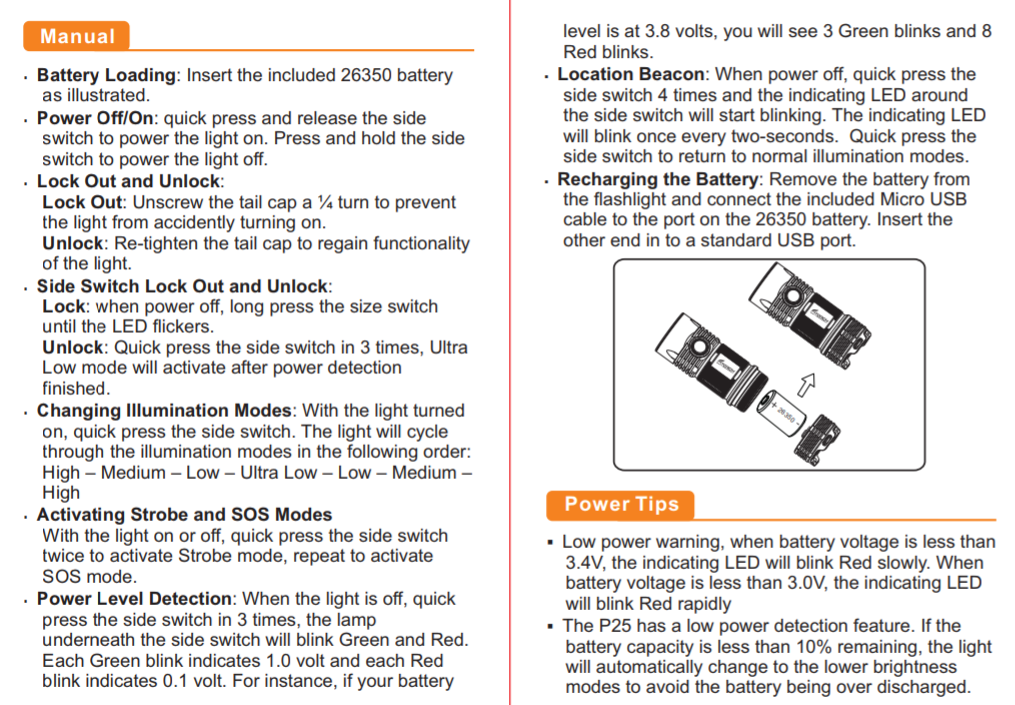 PERFORMANCE
CW, no surprise
But, I strongly feel that such sort of flashlight would be better with 4x Hi CRI NW LEDs.
Light distribution is expectable from such optic, there is a floody light, so comfortable for close-range needs. And, still, as Fitorch P25 is a bright flashlight, you also can expect some throw. Not that much, but it`ll be enough to see thing around with decent sidelight at the same time.
Battery has built-in charge feature, with red-green indication. Charge amperage is good, like 0.6-0.7A. See charge chart. Capacity is as stated.
Stabilization and thermal regulation
They are surprisingly good. High is fully stabilized, and, well, that is level almost as bright as TURBO for lots of 18650 flashlights 2 years afeel like go (and even for lots of modern EDC stuff). Cool!
I didn`t see any influence of cooling. But, actually, with such runtime chart – I don't care, as i`m impressed. Fitorch P25 keeps turbo surprisingly long and it`ll be enough for most of needs.
I`d say that about 100m is a logical limit for this sort of flashlight, but within this range you can rely on it. There will be bright floody illumination, so good for simple EDC needs.
OVERALL.
P25 is an interesting thing that didn't disappoint me, which may happen when experimental product is released.
Rare, almost unused battery enabled Fitorch to make a short flashlight that perfectly fits your hand, you can carry it without taking extra space in pocket. Well, there are a lot of 26650 flashlight that are compact, this one is even smaller!
I`d add something like 1lum mode and NW version.
As I don't remember any other 23650 flashlight (I don't care about haikelite SC26 as my one broke quicky, and I also met bad feedback about this model. Not to mention that Haikelite rep NEVER replied to any of my messages.), Fitorch are the only player here. 18350 models are too small for constant turbu, 26650 are too big – so 23650 is a kinda golden middle. Battery has good capacity, and still flashlight is quite compact, being really bright at the same time.
Overall, I like Fitorch P25. There are some things that i`d improve, but it is quite good as is, at least for me.